Each year I go to CES with the thought that this will be the year I eat healthy, exercise every day (beyond the 4-6 miles of walking each day that come with going to the show), win a ton of money, and make a bunch of new industry contacts. Every year, I come home disappointed that I failed at least one of those goals. Usually, it isn't the money one, so I'm often not too disappointed. This year, luck wasn't with me on the casino show floor, but I had some pretty good results against the rest of my goals.
First, let's get into the fun stuff: There were all sorts of great new things to see at CES this year, along with a bunch of stuff that had been previously announced that I finally got a chance to get a hands on look at. The device I went into the show most excited to see was the Garmin 910XT. The top of the line all-in-one multi-sport training watch that people have been clamoring for is finally shipping. My first attempt to get a feel for the new device was at a small event on Monday evening and was thwarted by a dead battery, but I got a chance on the show floor to spend at least a couple minutes exploring the interface of this new summit of triathlon technology. It's at least 10% lighter than my 305, and easily far more advanced. With the ability to track indoor swims, improved open water swim GPS tracking, and a redesigned interface that allows increased user customization, it really has basically everything you'd want in a training device. The reps on the floor said they'd get me a sample to review, which hopefully will allow me to put this thing through it's paces.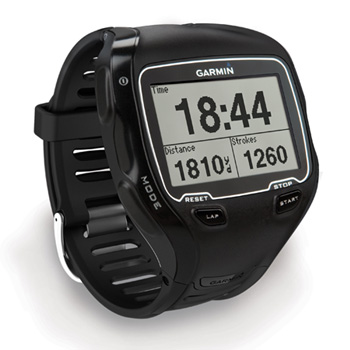 This picture of the 910XT is much better than the one I took on the show floor
A few days prior to the show, I saw on twitter that reigning Ironman World Champion Craig "Crowie" Alexander was headed to Las Vegas for CES. He didn't mention what he would be representing, and it turns out that he had joined Jabra, an audio device company, as a spokesman for their new Jabra SPORT headphone line. They specialize in bluetooth/wireless, but also have a couple of nice looking corded earbuds as well. Crowie was on a treadmill for much of the event, getting in almost a full marathon training run while demonstrating how well the product stayed in place for folks on the run. The best part of course was that he stopped to talk to myself and another triathlete for about 20 minutes. A great conversation where I mostly listened (and if you know me, that's saying something). Topics included the WTC point system to qualify for Kona (doesn't like it, and thinks the previous winners get too big an advantage), his race schedule (he's doing 6 races this year including Abu Dhabi in just a couple months), and Lance Armstrong racing Kona in 2012. Crowie says Lance is definitely racing, unless he's in jail. Lances people reached out to Crowies people to get tips. Crowie said they never talked but his advice would have been "don't come!" and thinks Armstrong would bring a lot of attention to the sport if he did line up in Hawaii. Meeting him was definitely one of the highlights of my trip, plus I got to see him ride the mechanical bull!
You get the hat if you ride the bull... I didn't ride the bull
Along with the expected of CES, there were also the unexpected, particularly a couple of fitness tech devices that caught my eye. One of these was the Basis, a new device that uses 5 sensors to provide a more accurate reading of your activities throughout the day, and what stress and other daily effects can have on your body. Starting with the 3D accellerometer, but then adding skin tempreature, galvonic skin sensors, heart rate, and a couple of others allow the device to give a more complete picture of not just what you're doing but how you're doing with what looks like ti will be a pretty snappy web interface. They're still a ways from being available, but at $199, it's likely to give the fitbit a run for it's money.
There is so much to talk about in each of the "extreme sport camera" and headphone spaces, I'm going to devote blogs to those over the next couple days. I'll try to space them out so that everyone isn't bored to death with new tech geekery. Because I know you're all really here to read about me and how I'm doing.
On that point, I'm doing great! Training has been going well, and I lost 2 pounds in Las Vegas (it was that and the $300 I lost in vegas that prompted the title of the blog). Oh, and I'll have more info about my Team Eleonore Rocks fundraising this week too.