Oh, Keanu Reeves, where are you when I need you?
Dude, I was at the Circle K getting a Slushie...
Not you, Keanu. I'll call you if I ever get stuck in a phone booth or want to fail a drug test.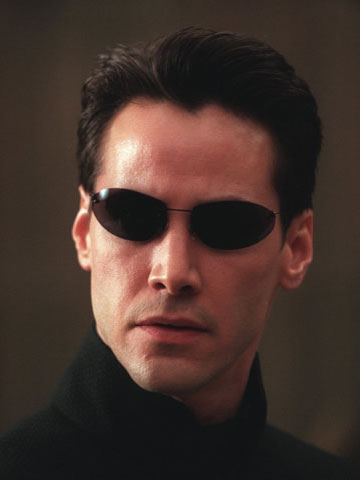 Sorry... Trinity and I were... uh, in the Matrix....
Riiiiight, "In the Matrix". You're not "The One" (get it?) I was looking for either...
Hmm... where is he?
Sorry, I was busy trying to teach these kids what "No trade clause" means
That's the Keanu Reeves I was looking for. The one from
Hardball
, the cheesy, horribly acted, "what if we did Mighty Ducks, but with baseball?", only redeeming quality is Diane Lane, movie. As I've indicated in the past,
I am easily inspired
. This morning I could have really stood to have some inspiration when the alarm went off at 5:30 AM following about 3 1/2 hours of sleep.
Last night we got in the pool right after work and powered through 1900 yards in less than an hour. Not just that, but in powering through, I kept up with Rach for the entire workout, and even finished the first 800 before she did. The second 800 I was a little slower but finished just 50 yards behind her, and my cool down only took a couple minutes longer than hers. It was my strongest swim in weeks, and going all out through most of it I was well under the time line for the Timberman swim until I slowed as i closed in on the cool down. I even kicked better than usual for me, and out kicked Rach when we raced through one kick lap.
My shoulder was a little sore when we got done with last nights workout, and that didn't get better with the lack of sleep. When I sat up to get out of bed, my overriding thought was that following the swim, I had to go to work, and there's a run tonight yet, and I just wanted to go back to bed. At that moment, I could have really used a cheesy motivational speech. While Rach is good at many things, cheesy motivational speeches are not at the top of that last. "Get up, Benny. We have to swim", was as good as I was getting this morning.
We got to the gym and as I sat on the edge of the pool I thought "I wonder how long til the hot tub opens?". I sat there thinking for a minute about how I had crossed the biggest hurdle just getting out of bed and getting to the gym, and even if I didn't do very much today, at least I'd not copped out of a 5:30 work, and I'd managed to show up.
And that's when Keanu Reeves popped into my head. Usually I prefer Giada De Laurentiis, Heather Graham, or some other lovely lady to pop into my head, but this time I'm glad it was Keanu. And it was his penultimate line from Hardball that came to my head:
"One of the most important things in life is showing up. I'm blown away by your ability to show up. Take a look at yourself and be proud."
Yes, it's shmaltzy as hell. But when you're as tired as I was, instead of feeling dorky, those words gave me the push I needed to get in the water. I didn't break any speed records today, but I put in 1500 yards in an hour (it was supposed to be 1800, but I ran out of time). Plus I fought through a sore shoulder and feeling like a shapeless lump of lard to get it done.
Maybe some days I am still a lump of lard, but I'm going to keep working until I'm a finely tuned lump of lard.
Were you looking for me?
Sorry, Keanu from Devil's Advocate. I'm saving your "I don't lose, I WIN!" speech for the big hills during the Timberman bike. But thanks for stopping by.
Notes:
- Got an email from the CBJ Foundation last night. They're working on fast tracking the interview with Tyler. Hopefully, this is back on the front burner again. Tyler hasn't put up new content on
his training blog
since 5/20, so it'll be nice to be able to add some updates to his progress along with the back story to his interest in triathlons.
- We're doing what amounts to an exercise contest at work. Originally, it was going to be a walking club sponsored by the company, but it turns out we can use any exercise. So the nice thing is I can really pug away at the miles, especially once I get on the bike this week. There's a prize for the overall winner, so that's extra motivation. I haven't figured out if there's a way to track who is winning, but I should certainly be up there on the list.
- Speaking of the bike, I hate it when the schedule has us not doing a lot of bike work. I miss my bike, especially now that she's all tuned up. We had a bike scheduled for last night, but outdoor biking was rained out, and all of the indoor bikes were full, so we scratched it. Whatever the workout plan says next week, I'm spending time on the bike.

- If you're not familiar with the lines I quoted from Hardball today, here's the trailer to give you a sense of the movie. The lines are at the very end of the video, so you'll have to get through 2 minutes of bad acting to hear them.